S tím, jak je teď bankrot Řecka nepopiratelný, tak jsme nakonec dospěli i do závěrečného dějství neokoloniálního modelu financializace.
Všichni víme, jak fungoval ten starobylý kolonialismus: imperiální mocnost převzala fyzickou kontrolu nad před tím nezávislými územími a vyhlásila své vlastnictví tohoto regionu jako nově zřízené kolonie.
A jaký je prospěch z kontroly nad koloniemi? V tradičním koloniálním modelu existují dva hlavní zdroje prospěchu:
Imperiální mocnost (metropole) těží z cenných komodit a levné pracovní síly své kolonie (periferie).
Imperiální mocnost prodává s vysokou marží své vlastní doma vyrobené zboží na trh uchvácený v její kolonii.
Tahle dynamika levného nákupu a drahého prodeje je srdcem kolonialismu, kterému lze porozumět jako jednomu z příkladů Modelu metropole-periferie (11. června 2013).
Kniha Sladkost a moc: Místo cukru v moderní historii poskytuje úžasnou historii fungování tohoto modelu ve prospěch Velké Británie.
Napětí, jaké tento model vyvolával v koloniální elitě Ameriky, je živě předvedeno v knize Tabáková kultura: Mentalita velkých plantážníků z přímořských planin v předvečer revoluce.
Tento tradiční model kolonialismu byl ve 40. – 60. letech 20. století nuceně demontován. Bývalé kolonie dosáhly politické nezávislosti, což byl proces, který podryl bohatství a globální vliv bývalých koloniálních mocností.
V reakci na to pak globální finanční mocnosti usilovaly spíše o finanční kontrolu než politickou kontrolu. Tohle je jedna z dynamik toho, co nazývám Model neokoloniální financializace (24. květen 2012), který ekonomickou mocí financializace (dluhem, zárukami a spekulací) nahrazuje hrubou sílu politického dobytí a kontroly.
Hlavní strategií financializace je: dostat se s levným úvěrem k těm, kdo mají omezený přístup ke kapitálu. Ti s omezeným přístupem ke kapitálu spolknou návnadu těch s levným úvěrem celou a svolně souhlasí se smluvními pokutami, vysokými úrokovými sazbami atd.
A pak, když rozšiřování úvěrů dosáhne úrovně, která je neudržitelná, pak věřitelné požadují zabírání záruk anebo obchodní a finanční ústupky.
Tyto taktiky byly dobře zadokumentovány v takových knihách jako Šoková doktrína: Vzestup katastrofického kapitalismu a Přiznání ekonomického zabijáka.
Ale ekonomické rabování bývalých kolonií má své meze a v důsledku toho vyvinuly globální finanční mocnosti Neokoloniální model, který ty samé techniky obrací proti svým vlastním domácím regionům.
Tudíž i Řecko a další kapitálově chudé evropské země byly rozpoznány jako periferie, které lze vykořisťovat z metropolitního jádra a euro se stalo ideálním nástrojem k financializaci ekonomik národů, které by nikdy nevytvořily úvěry poháněné bubliny nemovitostí bez naplno otevřených kohoutů s levnými úvěry proudícími do jejich ekonomik.
V Neokolonialismu se síly financializace použije k připoutání místních Elit a místního obyvatelstva k finančnímu metropolitnímu jádru: periferie "kolonie" si půjčují peníze
, aby si koupily koncové zboží vyrobené v ekonomikách metropolitního jádra, čímž Imperiální elity obohacují A) ziskem z prodeje tohoto zboží dlužníkům, B) na úrocích z úvěrů získaných z periferních kolonií, aby si koupily zboží od metropolitního jádra a "žily na vysoké noze", a C) transakčním shrábnutím financializovaných aktiv periferií jako jsou nemovitosti a státní dluh.
Banky z metropolitního jádra EU v podstatě kolonizovaly národy periferie přes financializaci eura, která umožnila ohromné rozšíření zadlužení a spotřeby na periferii. Tyto banky a exportéři z metropolitního jádra z tohoto rozšíření dluhů a spotřeby vydřeli nesmírné zisky.
A teď, když ten financializační systém eura už obrátil svůj chod, se postavení periferie jako neokolonií už hrubě odhalilo: takže aktiva a příjmy periferií už proudí k metropolitnímu jádru v podobě úroků ze soukromých a vládních dluhů, které vlastní centrální banky metropolitního jádra a jejich soukromé banky v centru finančního dění.
Všimněte si, jak jen málo se dostalo z řeckého "vykoupení z dluhů" k řeckému občanstvu, a jak hodně se toho dostalo jako úroky zaplacené finančním mocnostem.
Níže: Řecké vykoupení z dluhů zachránilo evropské banky, nikoliv lidi, Řecko od roku 2010 dostalo 284 miliard $ fondů výkupů z dluhů, z nichž se 92% dostalo k evropským finančním institucím a 8% k lidem v Řecku.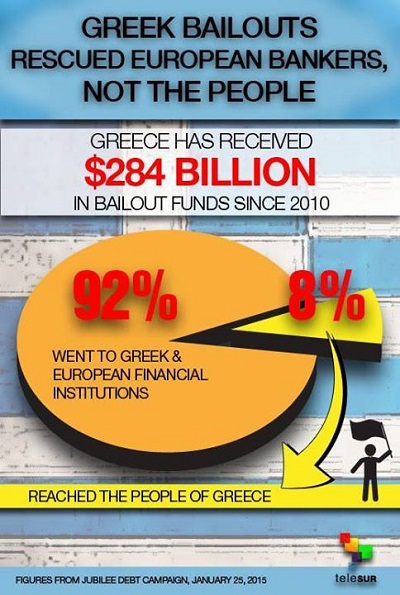 To není jen perfektní neokolonialismus, ale i neofeudalismus. Národy periferie EU jsou v podstatě neokoloniální dlužníci metropolitního jádra, a daňoví poplatníci národů jádra, jsou teď feudálními nevolníky, jejichž práce se věnuje ve prospěch půjček té periferii, která si vede špatně.
Neokolonialismus přináší prospěch jak finanční aristokracii metropolitního jádra, tak národním kleptokratickým oligarchiím. To je výstižně popsáno v nedávné eseji Zvrhlá vláda hrstky: Jak oligarchové zruinovali Řecko.
S tím, jak je teď už bankrot Řecka nepopiratelný, jsme už nakonec dospěli do závěrečného dějství Modelu neokoloniální financializace. Už nejsou žádné další trhy, které by šlo vykořisťovat financializací, a skutečnost, že ty hory dluhů jsou nesplatitelné, už nelze dále maskovat.
Finanční Aristokracie má teď neřešitelné dilema: odepsáním zbankrotovaných dluhů odepíše i aktiva a příliv příjmů, protože každý dluh je aktivum někoho jiného a proud příjmů. Až budou všechna tahle fantomová aktiva uznána za bezcenná, tak se ten systém sesype.
Pro Reformy.cz přeložil Miroslav Pavlíček
Zdroj: prisonplanet.com
Čtěte také: